Payment methods
All the security you need
Credit card
Immediate and secure with encrypted https protocol. We accept Mastercard and Visa. For your security, we do not store credit card numbers used for your orders. This highly confidential data is sent directly to the banks we work with, and we have no access to it.  When you order you will be asked for the 3-digit security code on the back of your credit card. This is where it is located: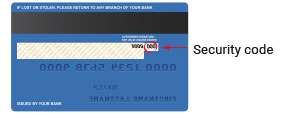 PayPal
This is one of the most popular online payment methods. To use it, you must have an active PayPal account. You just need to open a PayPal account (it is free). After that, you only need to provide your email address and your PayPal password to purchase online.
Bank Transfer
The bank transfer must be made within 3 working days from the order.
To complete the transaction, please use the following data:
IBAN number: IT89D0303212806010000006963
BIC/SWIFT code: BAC RIT 21038
Payable to ilFotoalbum S.R.L.

The order will be put into production only after the payment has been received in our bank account. Consequently, delivery times may differ.
Invoice
If you would like a copy of the commercial invoice, you must request it, while you order, in the space dedicated to customer notes, and provide your VAT number. In the absence of this request, no document will be issued.